From Empty Fruit Bunches into Biomass Pellets
As we know, Pellets can be made of sawdust and shavings and agricultural waste such as rice husk and wheat straw. However, Empty fruit bunches(EFB) can be put into use for pelletization as well. Over the past decades, forest materials have been used in a wider range while the EFB material seems like an untapped resource for pelletization. Actually in the wake of development of renewable energy, the higher requirement for expansion of feedstock application for pelletization is also put forward. Comparing with wood material, EFB material possesses also the features of cost efficiency and sustainability, not least for industrial grade pellets destined for heat and power. Palm fiber or palm silk is a kind of biomass materials is by-product of palm after oil extraction. It is also called EFB for short. It is featured of high content of oil and water, high hardness and strong tenacity. These features make palm EFB a great material for pelletizing, but also make it more difficult to pelletize. Specialized EFB Pellet Mill is needed to produce pellets from palm fiber or palm silk.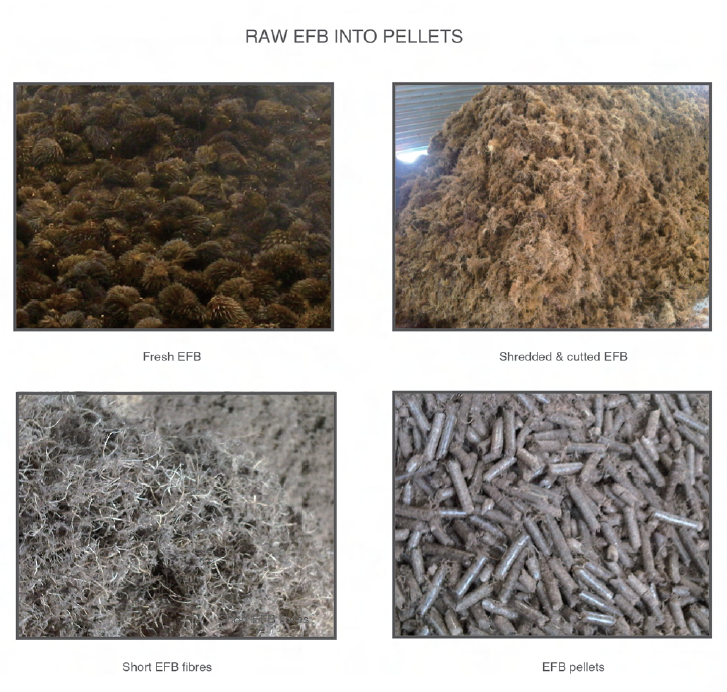 Link to pellet mill to know how to make EFB Pellets

The palm oil industry of Southeast Asia boasts the largest and richest resources around the globe, representing a huge amount of unutilised raw material for pelletization. Across the whole Malaysia alone there are more than 400 crude palm oil mills. In this project, the EFB pellet plant is built beside a palm oil mill where the palm empty fruit bunches is abundant and easy to transport to cut down the prime cost. The palm EFB pellet line consists of sieving machine, drum dryer, wood hammer mill, Ring Die Bio pellet Machine, cooler and packing scale. The compressed palm EFB pellets are high in density and have a relative high consumption value because of the outstanding performance of the pellet machine and the rich fiber and cellulose content in the raw material.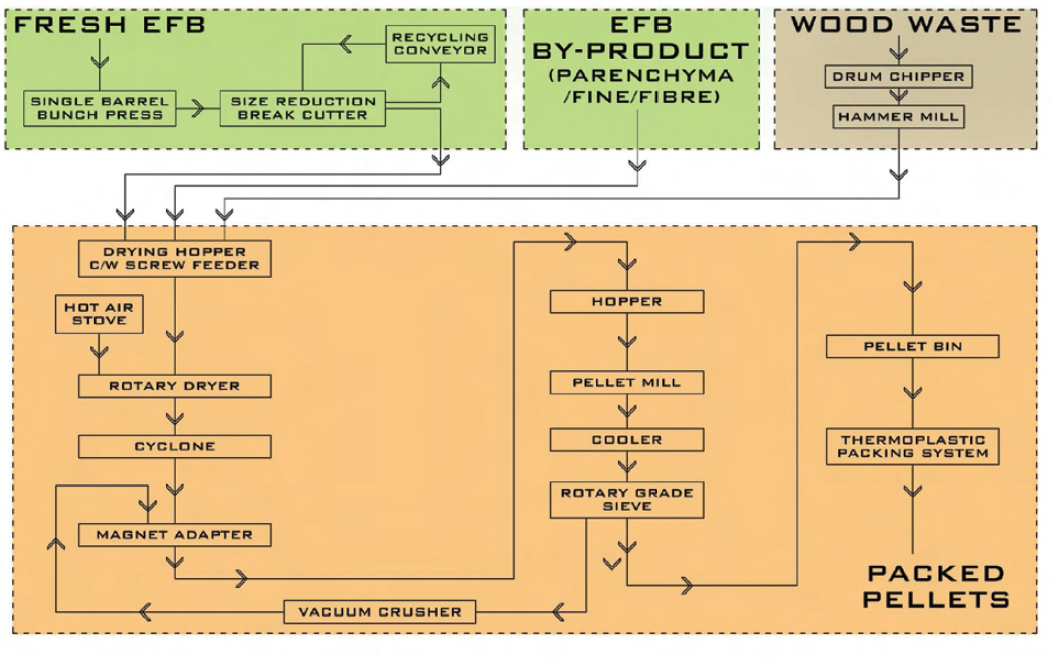 With the limitation of traditional utilization of EFB biomass, large amount of EFB biomass energy was wasted in the past. Now, with the innovation on EFB converting technology, EFB biomass can be successfully be converted into pellets fuel under the processing of pellet plant and they can be used by co-firing system and biomass boilers to generate heat and electricity.
EFB pellet is a kind of sustainable and renewable fuel, which can be produced in large scale with pellet plant. The transportation and storage of EFB pellets are even more easier. Generally speaking, the energy content of EFB increases after being processed into pellets with
pellet plant
. The calorific value of EFB pellet is between 4,200 – 4,900 cal/kg, therefore, it can be used as an alternative of coal to ease energy and environment pressure.
The typical EFB pellet production is consisted of EFBs shredding, drying, grinding, pelletizing, cooling, sieving, dust recycling and packing, among which pellet plant is the most important processing equipment during the production of EFB pellet.
There is no denying that EFBs due to the loose and voluminous with a fibrous and stringy structure are tough to be handled in some procedures of pelletization such as cutting, shredding, pelletizing and drying. Thanks to the R&D of EFB pelletization, the material can be used. For instance, an EFB pellet production line may consists of three units, pretreating section for size and moisture reduction to produce 20mm fine fibers at 20-25% MC, pelletizing unit and cooling and packaging unit. At the stage of cleaning, a lot of solid content can be separated from fibers so that the solid will consist mainly of parenchyma and fine fibers which happen to be suitable for pellet production.
--------------------------------------------------------------------------------------------------------------------------------------------------
Malaysia is well know for oil palm agriculture, and shredded EFB fibre is the by-product for the industry. Converting shredded EFB fiber becoming EFB pellet is a major contribution in renewable energy.
EFB Pellet is the product manufactured from shredded EFB fibre.