Pellet Mill
Biomass pellet plant
refers to a complete process for making biomass material into a new type environmental friendly pellets which being widely used as bio-fuel for industrial and commercial use. Pellet mill is the core machine of a complete production line of pellet. A pellet mill, also know as a pellet press, is a type of mill or machine press used to create pellets from powdered materials. There are two common types of pellet mill, flat die pellet mills and ring die pellet mills. Customers can choose different kind of mould according to different raw materials, moisture content, production scope, and usage of finished products.
The biomass complete line is called biomass pellet plant or biomass pellet complete production line. Pellet mill is the forming equipment within a pellet plant, with the auxiliary equipment usually including crusher, hammer mill, mixer, cooler, sifter and packing machine.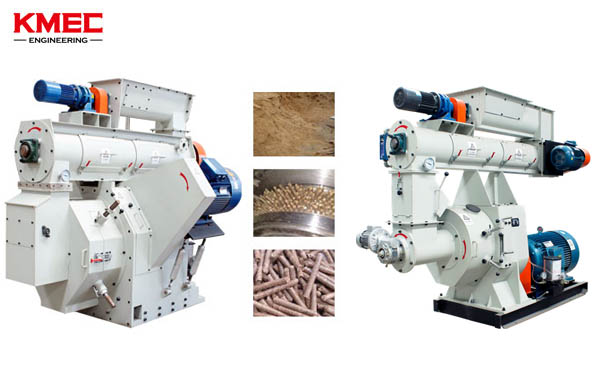 Main technical parameters:
Model
Power(kw)
Yield(kg/h)
Dimension (L*W*H)(mm)
Net Weight(kg)
KMPM350
Feeder 0.75
500
2450*1000*2300
1990
Conditioner 5.5
Force Feeder 0.55
Main Motor 55
KMPM420
Feeder 0.75
800-1000
3200*1100*2850
2430
Conditioner 5.5
Force Feeder 0.55
Main Motor 90
KMPM520
Feeder 0.75
1500-2000
3300*1250*2550
3500
Conditioner 5.5
Force Feeder 0.55
Main Motor 75*2
KMPM650
Feeder 3 (Frequency Controllable)
2500-3000
3900*1500*2800
4900
Conditioner 7.5
Force Feeder 1.5
Main Motor 110*2
The biomass pellet plant for sale can press high crude fiber biomass waste into good pellets. Especially it is fit for biomass waste from corn straw, wheat straw, rice husk, coconut shell, palm fiber and palm shell, very hard wood etc. It may also be applicable to biological fertilizer, organic manure as well as fertilizer for low-temperature granulation.
Basic features:
1.Wide applicable scope: It can process different materials such as biomass materials like wood, sawdust, sugar cane, bamboo, rice husk, grass, straw etc, and some special raw materials like rubber, clay and plastic as well.
2.Adjustable capacity: We can customize the different capacities from 0.3 ton per hour to 30 ton per hour or even more.
3.After-sale guarantee: One year warranty and all round after sale service
4.Unique after-sale service: Agencies for installation and maintenance for KMEC are gradually established in home and abroad to make our customers convenient and reduce the troubles about the after sale maintenance.
Working principle of pellet mill plant:
Raw material prepared
Biomass pellet is mainly made of any wood waste and biomass particles, such as wood sawdust, wood shavings, wood chips, wood logs, straw, rice husk, coffee husk etc. At a biomass pellet plant, raw materials need to be well prepared before pelletizing, then get dried, compressed, and formed into small eraser-sized bits, the biomass pellets get from biomass pellet plant are clean, pleasant smelling and smooth to touch.
Crushing process- rotary dryer
After crushing process, the biomass materials need to be well conditioned on moisture before pelletizing. The best moisture content to pelletizing is about 14-16%. Our rotary dryer is made up of burning stove and main rotary dryer which is high efficiency in drying the biomass materials. It use steam to heat air and contact material to remove certain degree of moisture. It is important for biomass pellet plant to using moisture detector which will determine the most suitable moisture before pelletizing.
Pelletizing process- biomass pellet mill
Flat die pellet mill
or
ring die pellet mill
is the heart of the pellet mill production line. The pellet machine is widely used in compacting of wood, straw, and other biomass sources into pellet. Capacity ranges from 1T to 10T per hour.

Wood Pellet Plant Enlarged in Scale in Semarang, Indonesia
Cooling process
After the pelletizing process, the temperature of the biomass pellet is about 60-80 degree C, and the moisture content of the biomass pellet is about 15%. A cooler must then be used to reduce the moisture content of the biomass pellet to about 3-4%, thereby making the pellet easy to store.
Packing process—pellet packing machine
After cooling process, the biomass pellets will not directly enter into the fuel process, avoiding the biomass pellet affected with damp, the packing process is very necessary. The packing process is effectively handled by our semi-auto packing machine.
This biomass pellet mill line is from Henan Kingman M & E Complete Plant Co. Ltd (KMEC) which is the leading pellet mill mould manufacturer. The KMEC biomass pellet plant uses innovative technology, providing a significant change in the way biomass is formed into pellets, resulting in a substantial reduction in production power demand, much longer working life and lower maintenance rate and cost.
If you have any problems to our biomass pellet mill line, please feel free to contact us through Email. We will respond to you at any time.

------------------------------------------------------------------------------------------------------------------------------------------------------

Supply CE Certificate Small Wood Pellet Mill For Sale
Supply CE Certificate Wood Pellet Mill in China
Flat Die Wood Pellet Mill Machine
The Southeast Asia pellet market is in depression
If you're interested in our products or have any questions, please let us know. Don't hesitate to contact us!