Flat die wood pellet mill
Electric Flat Die Wood Pellet Mill Introduction
Electric Wood Flat Die Pellet Mill is an ideal pelletizing machine mainly used for small-scale wood pellets production for home heating. The key parts of small pellet mill is flat die, pellet roller, power source and gear bearings. There are two types of electric pellet mill: model ZLSP and model GC-9PK(CE certificate). The differences lie in the motor. For model ZLSP type, the electric engine is exposed to the outside, while the engine of model GC-9PK is fully covered. With covered engine, the pelleting process will be safer and the machine shape is more beautifully. You can use them to process a variety of agricultural and forest wastes, such as sawdust, corn stover, straw, rice husk, palm kernel shell and many other wastes into pellets. Low noise, high efficiency and high flexibility, this machine is your ideal pelletizing machine.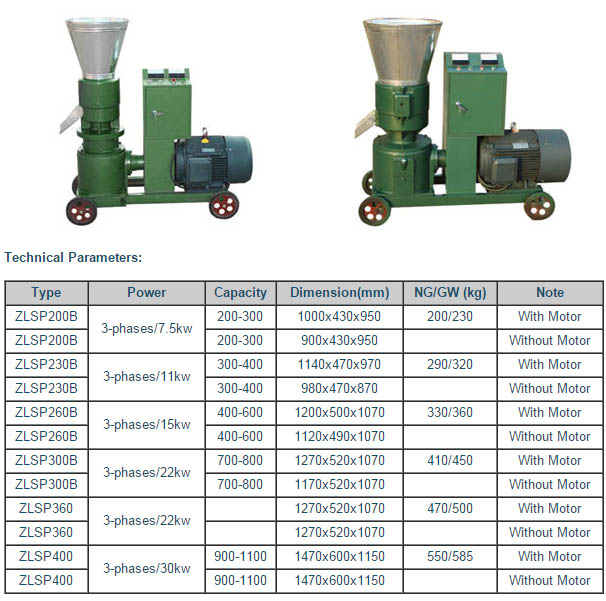 Roller Driven Flat Die Wood Pellet Mill Features
1. Flat die wood pellet mills have durable operation with high quality.
2. Small and light weight which make it widely used in home, small farm, also applicable to organic fertilizer & compound fertilizer granulating.
3. Because of the high pressure and stable operation, our wood pellet mills can make good density pellets without bond.
4. Flat die wood pellet mill adopts high precision gear transmission gearbox, ensuring a reliable and efficient pelletizing process.
5. We supply flat die pellet mill dies with diameter of Φ6-Φ12mm for your choice, meeting your different application needs.
6. Electric flat die pellet mill can also process biomass material such as wheat bran, soybean bran, rice husk, wood chips, sunflower stalk, forestry wastes, wheat straw and many other wastes into wood pellets for green fuel.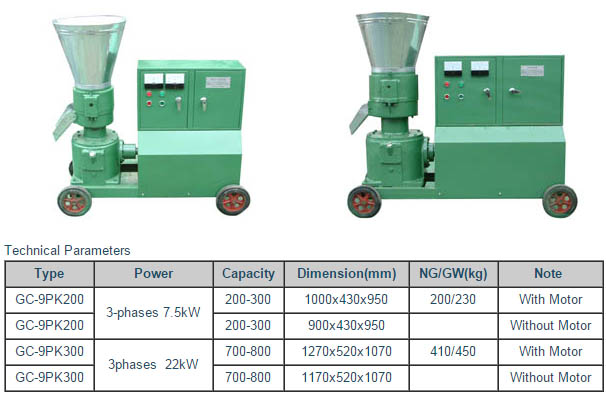 The flat die wood pellet mill manufactured by our factory adopts domestic advanced compression technology of moving roller type flat die. The compression technology of moving roller and flat die is a rather popular technology currently. Comparing with the parameter of home and abroad advanced technology, it has technological advance, practical applications and economic, which has outstanding advantages.

1. Broaden applicability of raw material.
The technology of flat die compression has big die hole for compression, it adopt the compression roller with big diameter which can crush and pelletizing the material with big volume and long fiber content like straw, rice husk and sawdust. It has no strict requirement to the crushing of material. In addition, the moisture content is about 15-25% (18% is best) for compressing and pelletizing when the technology is used to compress the material with fiber content. In most cases, it is unnecessary to dry the material.





2. High output
Under the condition of fixed density for formation and the same capacity, application of technology of flat die compression has 20-35% higher of output than the output of other compression technology.

3. Low power consumption per ton
On the one hand, the compressing chamber of flat die compression formation equipment is big, and the diameter of compression roller is large. So it overcomes the limitation of ring die compression technology and the rotation squeezing technology, to reduce the energy consumption during the crushing of material during compressing the material with big particle size like straw. On the other hand, comparing with the technology of ring die compression technology, the ratio of area of flat die hole is big with many discharging holes. And the density and the particle size of discharging material are uniform.

4. Long life service of roller
Due to the difference of working principle, the line speed of compression roller of flat die compression technology is lower than the ring die, so the speed of wearing is much lower. In addition, the other side can be used when one side of it is wearing, so that it can improve the life service of it.

5. Density of formation is adjustable
The clearance of compression roller and die, the pressure can be adjusted through adding shims between the flat spindle and wheel frame. Therefore, the density of formation materials is decided. It is easy operation and waster of time, and can be used to produce compression formation product with middle or low density. It can also be used to produce compressed formation product with high density, the single machine has many functions.

Flat die pellet mill can make all kinds of solid grain to be small pellet feed for animals like fish, shrimps, chicken, rabbit, horses, goats, etc, or you can make bedding pellets for animal stalls from cardboard. It can also make all kinds of saw dust, paddy straw, sunflower stalk, forestry wastes, wood chips, and many other wastes into wood pellets to be used as fuels.

KMEC boasts the best pellet mill manufacturer and supplier of China. Our products have been exported to American, German, Russian, Brazil and other 50 countries. Our primary products include series flat die pellet mill, ring die pellet mill , pellet production line etc. we welcome customers all over the world to consult and purchase our products.

-------------------------------------------------------------------------------------------------------------------------------------------------------

Then how about make pellet by yourself with a pellet mill? All you have to prepare is a pellet mill and enough raw materials. If you can make your own wood pellet, you can just enjoy the convenience, neatness and the lower cost than buy pellets from the market.